HARDWEARING uPVC FACIAS AND SOFFITS
High Performance Roofline Throughout Surrey
Fascias, soffits and guttering make up the roofline and are primarily used to improve the aesthetics of roofs in the Caterham, Reigate, Godstone, Croydon, Oxted and Surrey area. Our roofline is under attack throughout the year, protecting our homes from rain, snow, and ice. For this reason, it's important your roofline protects the exterior of your home.
If you find that your home is suffering from a leaky roof, damp ceiling patches or mould, your roofline may need to be replaced. By replacing the damaged fascia boards, soffits, guttering, and cladding, we can secure your home against potential water damage and help improve thermal efficiency.
Choose from our range of roofline products to ensure your home looks good, as well as being protected all year round with virtually no maintenance required. uPVC roofline solutions won't suffer from the issues traditional timber does. You won't have to worry about rotting, warping or discolouration.
Our Roofline Products
SELECT A STYLE TO LEARN MORE
Fascias, Soffits and Gutters
Fascias, Soffits and Gutters
Improve the ventilation and weatherproofing of your home by installing new fascias soffits and guttering. These roofline products play a vital role in protecting your property from the elements and improving the kerb appeal of your home.
Fascia boards are mounted at the point where the roof meets the outer walls of the home. The fascia holds the guttering and supports the lower edge of the bottom row of tiles. The soffit board is tucked under the fascia board and is usually the roofline element you can see from street level. Soffits can improve the look of your home and protects the rafters from the elements, reducing mould.
Guttering is the small thin trough that is used to collect runoff water and directs the rain away from your home. Guttering also prevents erosion and leaks, collecting water to be used for watering plants.
Benefits of Fascias, Soffits and Gutters
20 year guarantee from installation
Improve your home's kerb appeal
Meets required Building Regulations
Available in a range of colours
Guttering is made up of recycled material
Choose from plain, vented and fluted soffits
Cladding
Cladding works to protect your brickwork from the elements, saving your property from water damage. It protects the structure of your home and can enhance the thermal performance of your property.
Cladding is designed to offer long last protection without compromising on the aesthetic value. Our cladding is tailored to the requirements of your home. The weatherboard has an attractive featheredge style cladding that overlaps to create a neat finish. It is 170mm wide and 7mm thick, making it ideal for any style of property.
Cladding increases the strength of your home. This installation improves the resistance to cracking during temperature changes and offers protection against rain. They can also help minimise the level of carbon dioxide emissions leaving your building.
Benefits of Cladding
Lead free, eco friendly formulation
A+ energy rating for comfort
Hassle free and easy to install
10 year guarantee from installation
300mm wide and 7mm thick
Weatherboard is 170mm wide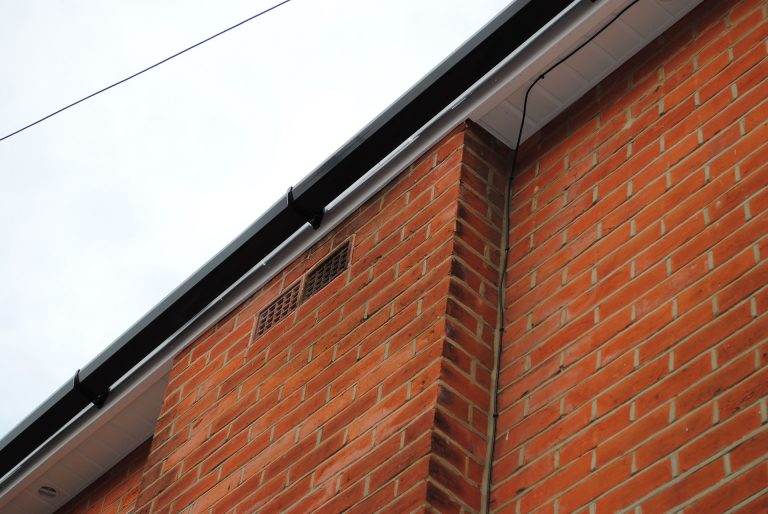 LONG LASTING FASCIAS, SOFFITS AND GUTTERS
Roofline Prices, Across Surrey
If you're interested in updating the roof of your home, then get in touch with us today and discuss your next project. We offer a range of products perfect for any home.
Get in touch online to arrange a free quotation in order to find out how much your fascias, soffits, guttering or cladding will cost.
Our roofline range can be customised to perfectly suit your home. All our roofline products are made to order, allowing you to have full control over how these fascias, soffits, guttering and cladding look. We will unify our roofline products, so they all match each other. We can either colour match with your previous roofline, or update the roofing products to bring a whole new modern look to your home. Choose from a wide selection of long lasting uPVC styles and colours from different tones of grey to crisp white and elegant black shades.
Fascias are used to create a barrier between the edge of the roof and the outside world. Generally, soffits offer additional coverage for your home. It sits along the edges of your roof and the adjacent walls of your property.
Our roofline products are made from uPVC. The reason uPVC is so commonly used and is so popular with homeowners, is that it is durable and long lasting without needing extensive maintenance. Simply wipe down these roofline products or use a hosepipe and they will stay looking as fresh as the day we install them.